The market for software engineering talent is rapidly changing.
In the last decade, companies were out-competing each other to provide the highest salaries and sets of benefits in order to attract and retain exceptional talent.
However, in 2023 so far we're seeing more uncertainty, with layoffs and stagnating growth prohibiting further increases.
In order to gain a better understanding of the market landscape, we ran a survey among 100+ software engineers exploring current and future trends in salaries and compensation for programmers.
Unsurprisingly, more than 93% of our respondents ranked "Salary & Benefits" as Important or Very Important when applying for a given role. It's also the most motivating factor for retention, with 63.8% of respondents saying Salaries and Perks are Very Motivating.
So, let's dive into the survey results so you can inform your recruiting and HR decisions when setting levels of compensation.
Are current salaries too high?
We first wanted to find out how our respondents feel about the current levels of software engineering salaries. As it turns out, the majority believe they are higher than they should be.
There are a number of factors that have contributed to rising salaries for programmers, including a demand shortage and high inflation. But these responses are from a targeted response group of software engineers so it is surprising that so many believe average salaries are higher than they should be.
We followed up with related questions to try and predict if salaries are likely to go up or down in the next few years.
How will AI impact salary levels?
Still, the majority of our respondents believe that software engineering salaries will increase in the next 3-5 years, taking inflation into account.
Whether it's due to AI or despite it, our respondents are relatively optimistic and expect salaries to go up or stay the same. Less than 20% expect average salaries to go down in the next 3-5 years.
At the same time, there is a sense of concern due to AI.
Almost 90% of our respondents are at least somewhat concerned about their careers due to advancements in AI that could make their skills irrelevant or less valuable.
As a summary, our respondents feel average software engineering salaries are high and likely to increase in the future. But what's the situation when it comes to non-monetary perks and benefits?
Do employers offer good enough benefits?
We got similar responses as with salaries – perks for software engineering roles are usually enough or more than enough.
This is in line with our expectations due to the competitive landscape of the software engineering talent market.
Which are the most important benefits for software engineers?
Health insurance was ranked as an Essential benefit by 41.5% of our respondents, with Remote Work following at 37.7%. Interestingly, that's a higher percentage than a 401k scheme – 36.7% of respondents ranked it as an essential benefit.
In fact, only 10% of our respondents work fully on-site, with the remaining 90% being remote or hybrid.
This shows that programmers value remote work and prefer this arrangement, making it difficult for employers to compete without offering at least partially remote options.
How hard should you negotiate salaries and perks?
More than 70% of our respondents said they or an employer withdrew from a job application due to not agreeing on a salary level.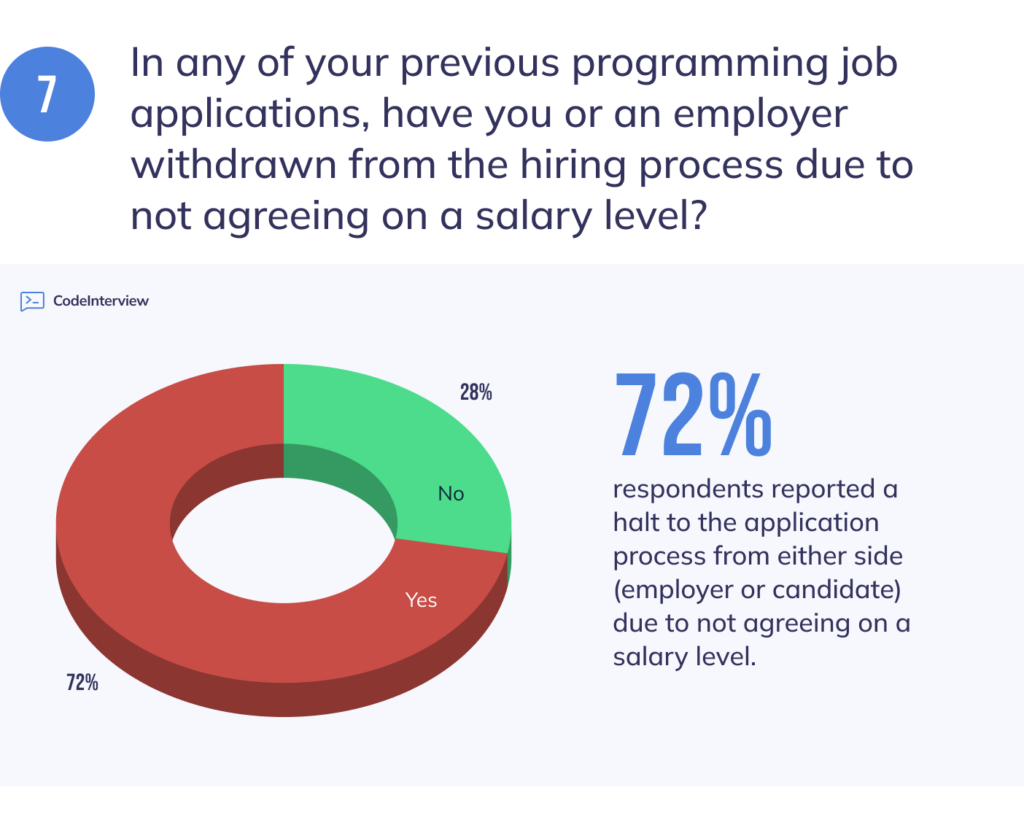 This indicates that clear and upfront salary ranges are helpful to reduce wasted time on both sides. Still, there is room to negotiate.
Almost half of the respondents said that a long and difficult negotiation process is not a deal breaker for starting a new role. Only 6% said it would heavily influence their perception of an employer brand in a negative way.
Conclusion
If you don't use data to inform your compensation decisions, you are likely to overspend or miss out on exceptional talent. Hopefully, our survey data will help you make a better decision about whether to increase, decrease or keep your compensation levels at the same level. 
Further reading: